Pionex
provides the crypto currency automatic trading function as a service. You can combine multiple cryptocurrency automated trading bots such as Grid Trading Bot, Leveraged Grid Bot, and Arbitrage Bot to build automated trading logic. For basic information on Pionex, see
Pionex
. On this page, we will publish the results one week after the start of operation.
Automatic trading of crypto currency : 1st week Achievements
Arbitrage Bot
A week of automatic trading makes a profit of 1.1%. Considering stability, I think it is a very excellent profit margin. As shown in the screen below, the result record of arbitrage automatic trading is generated every 8 hours, but only the creation of the first record after creating the Pionex automatic trading bot is negative, and after that it is about 1 from March 9th to 15th. All weekly results are positive.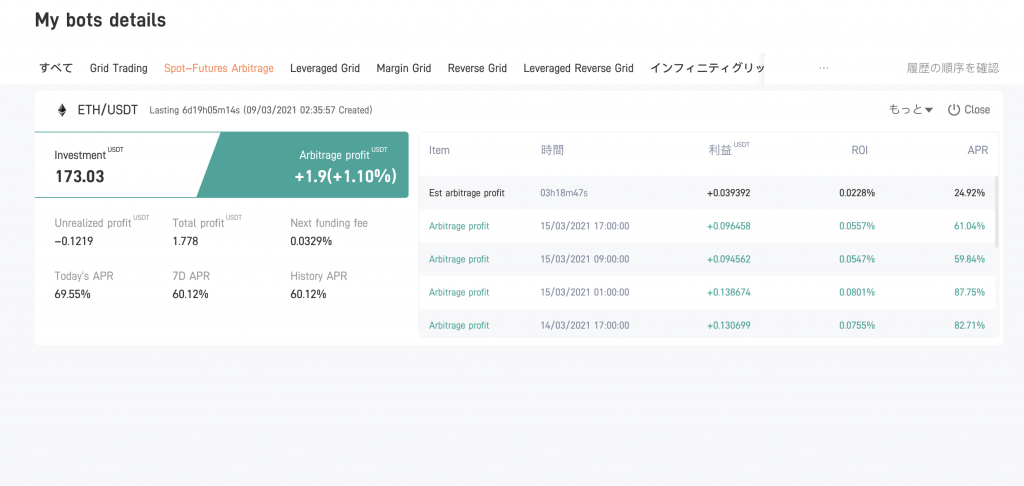 Grid Trading Bot
Next, the results of the first week of automatic trading by Grid Trading Bot are as follows. It's not very good.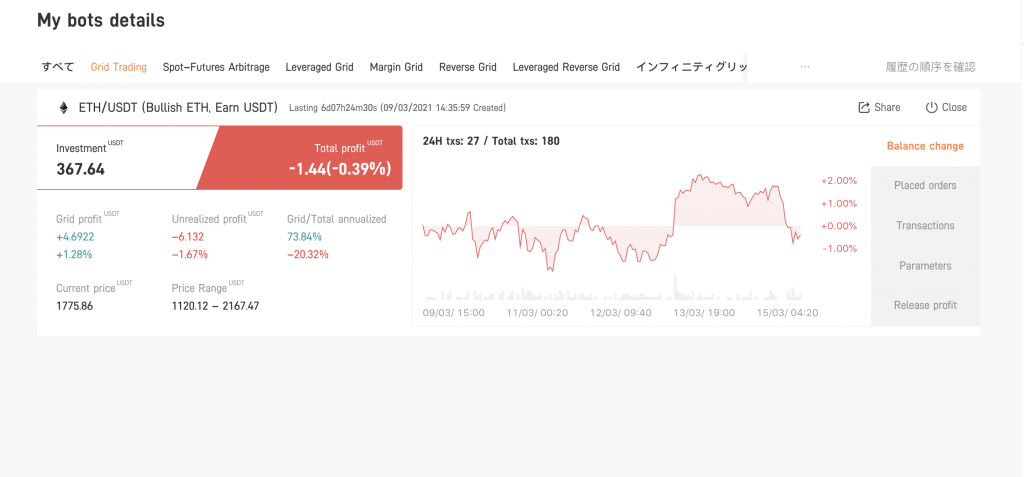 This is a weekly chart of BTC / JPY. The shape of the chart is quite similar. If so, what does it mean to use this automatic trading bot? If risk hedging is not possible, simply holding the cryptocurrency ETH will increase the rate of increase when the price rises.
Future investment strategy
Arbitrage Bot
The Pionex Arbitrage Automatic Trading Bot is a very promising bot, with a "stable" 1.1% profit in a week. Assuming that the profit margin for the first week = 1% / w continues, A profit of 610 USD in one year (52 weeks) with an investment of 10,000 USD
Grid Trading Bot
As for PionexGridTrading Bot, as far as I can see the results of the first week of automatic trading, I could not find any reason to operate with this bot. In the future, we will reduce the investment amount to about 120 dollars (minimum investment amount) and then look at the situation. Screen when the bot is stopped.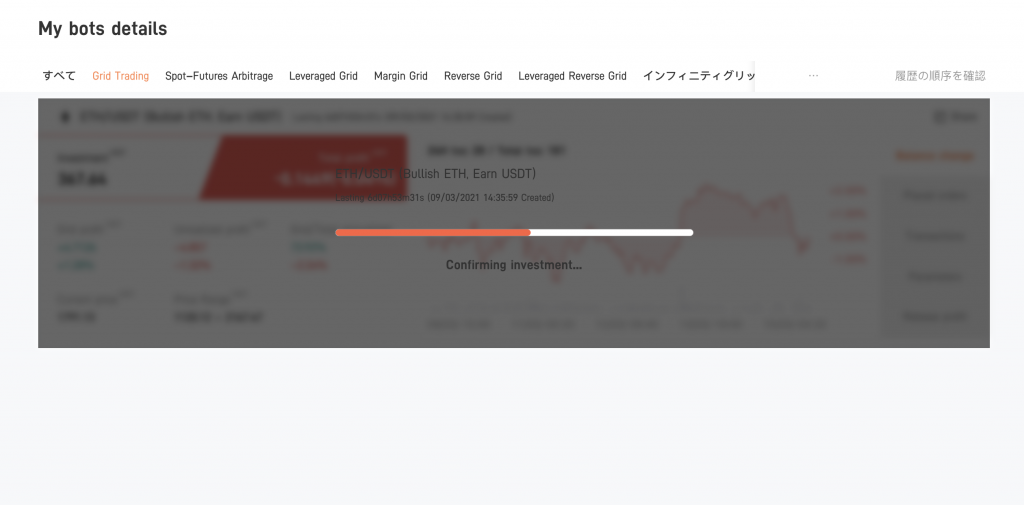 Recreate the GridTradingBot.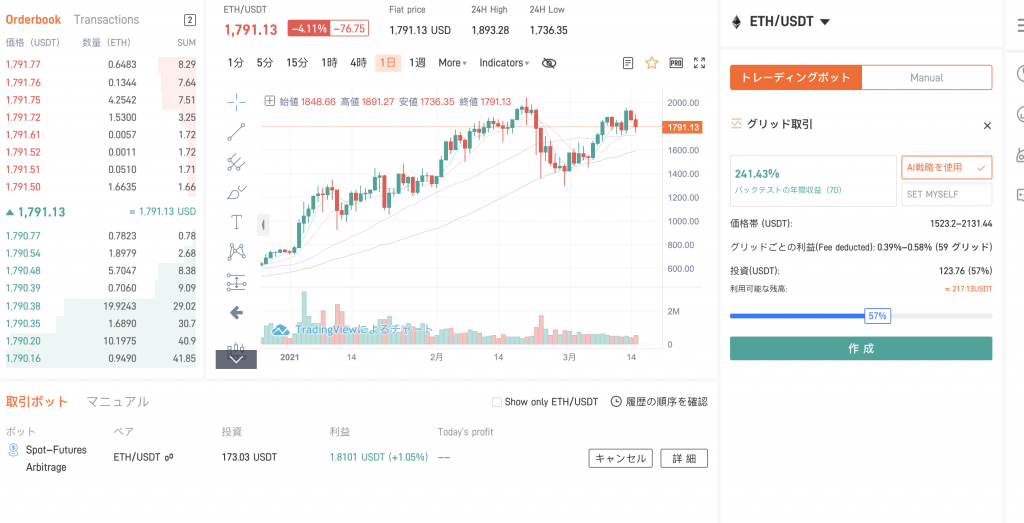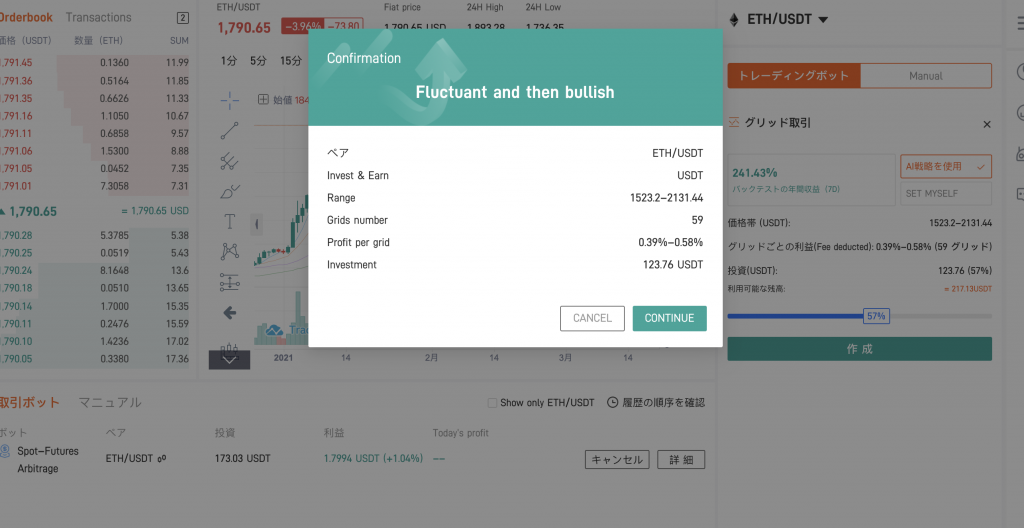 Confirm that the GridTrading Bot has been created.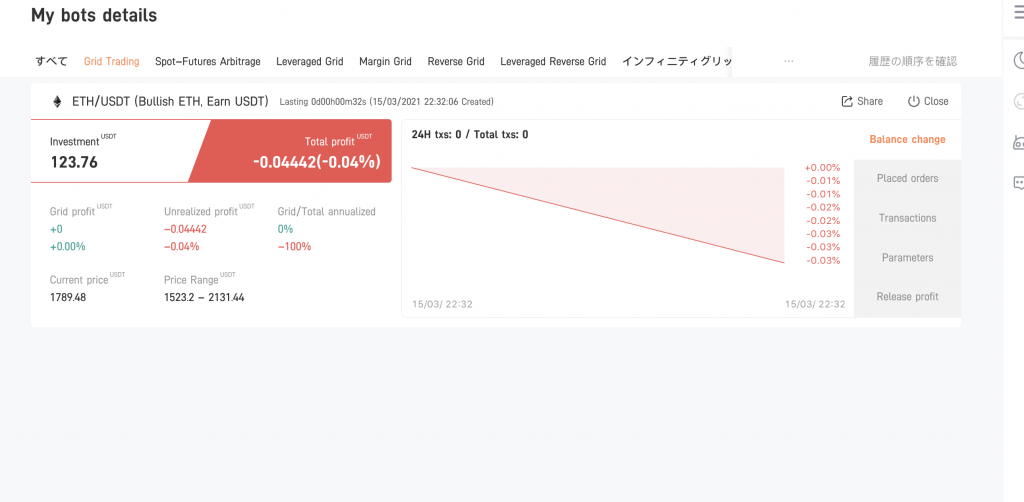 In the end
Pionex
provides the crypto currency automatic trading function as a service. You can combine multiple trading bots such as Grid Trading Bot, Leveraged Grid Bot, and Arbitrage Bot to build automated trading logic. Considering the results of the first week, I think it is a good idea to aim for an annual yield of 60% for stable operation with the Arbitrage Bot. We will continue to publish analysis based on actual results.